Zoila Diaz is one of the main characters and titular protagonists of Devious Maids. For a good 20 years she has worked as the sass-mouthed, fear-driven, but also loving and caring, maid of Genevieve Delatour, often serving as her emotionally unstable employer's rock whenever she falls into distress. Years of this, as well as raising her daughter, Valentina, has gotten to Zoila and put her in the mindset of always needing to take charge of what goes on around her. While this can lead to some detrimental instances - such as the dissolution of her marriage - Zoila's heart is always in the right place and she simply wishes to take care of those she loves.
Biography
Early Life
He made promises to me. And yes, I remember every single one.

Zoila Diaz, "Making Your Bed"
Zoila was born in 1974. ("Since You Went Away") Growing up, Zoila had a younger sister, Reina, who always wanted whatever she had. To Zoila's dismay, in high school, Reina was always sneaking boys over. ("She Done Him Wrong", "The Turning Point") She was a bright young woman and had the opportunity to go to college, even earning herself a scholarship which she thought would always be there; however, she waited too long to act on it and it ended up slipping through her fingers, meaning she had to go on to work as a maid for Genevieve Delatour. ("The Dark at the Top of the Stairs") Early in her two decades working at the Delatour mansion, Zoila meets and falls in love with her employer's brother, Henri. The two carry on an ongoing romance, and Henri even promises to marry Zoila. This all comes to an end, however, when Henri leaves her to marry Cynthia, a woman introduced to him by Genevieve. This leaves Zoila heartbroken, and ever since, Genevieve has had regrets for introducing Henri to the woman he went on to marry. ("Wiping Away the Past", "Making Your Bed") In 1992, Zoila goes on to marry Pablo Diaz. Two years later, the two have a daughter, Valentina. Because of her past troubles with falling in love with rich men, Zoila does her best to prevent the same from happening to Valentina, meaning she strongly opposes her crush on Genevieve's son, Remi, since the start. ("Pilot", "Setting the Table", "Making Your Bed") Early on in her marriage to Pablo, he has an affair with her sister, Reina. ("She Done Him Wrong")
During Genevieve's second marriage to Philippe Delatour, a serial cheater, he buys her an expensive ring as an apology for sleeping with her nutritionist. She throws it at his eye and scratches his cornea, proceeding to give the ring to Zoila in case of a rainy day. ("Walking the Dog") During Genevieve's fourth marriage, Zoila was the first to know that both she and her husband were having affairs, mostly never sleeping at home at night, and meaning Zoila didn't have to make the bed in the morning. ("Whiplash") When in high school, Remi becomes addicted to drugs, and when sent to rehab, Zoila lies to Valentina, for she was still young. ("Taking a Message") At one point during Zoila's time as Genevieve's maid, she is asked by her boss to provide her with shampoo whilst in the shower. To her surprise, however, Genevieve wasn't alone. After giving her the shampoo, Zoila spends the next hour waiting for Genevieve and the man to come out; all she can think about is that she's the one who has to clean the mess up. ("Pilot") During one of their visits together, Zoila's sister, Reina, steals her car. ("She Done Him Wrong") Zoila eventually befriends three fellows maids, Rosie Falta, Carmen Luna, and Flora Hernandez, but one day, she and her friends are told a secret by Flora of her plans for success. For quite sometime, Flora has had the intentions of becoming impregnated by a rich man's child, and then blackmailing him. Despite not approving of this, Zoila and her friends keep it a secret. In the summer of 2013 though, Flora ends up murdered in the home of the Powells, leaving only Zoila and a few others knocking the truth about her background. ("Pilot", "Totally Clean")
Rich boys never fall in love with the help.

Zoila Diaz, "Pilot"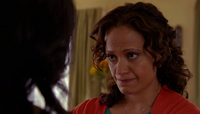 Zoila shares her words of wisdom. ("Pilot")
Zoila attends the funeral of her friend and fellow maid Flora and as she, her daughter Valentina and her friends leave the graveyard, Rosie suggests that they go to the police with what they know of Flora's death, but her friends ward her off of the thought. Zoila is later introduced as the maid of Genevieve Delatour, along with with her daughter, and she discovers her employer under the bed having swallowed a whole bottle of pills after the pool boy left her. Remi, Genevieve's son, comes to help, and Valentina suggests that he stay home instead of go to college and commute. This excites Genevieve so much that she offers to go the the hospital, and takes Zoila to help her put her make up on first. Later, Zoila is  having lunch with her friends, and they invite new maid Marisol to their table and seem to hit it off with her... until the matter of Flora's murder arises and the other three leave suspiciously. When Zoila returns home, she sees that Valentina is flirting with Remi, and is less than happy. After work, Zoila goes shopping and returns home with a new outfit for Valentina. Her daughter is initially happy until she discovers that it's a stereotypical maid's outfit, wondering why her mother bought it. Zoila tells her daughter that it's her uniform and that she has to remember her place, assuring her that rich boys never fall in love with the help. When Zoila falls asleep, Valentina whips out her sewing kit and alters the dress to make her look sexy, and she is very happy when Remi approves. Later, when Zoila is once again having lunch with her friends, they once again invite Marisol over, but she is on her way somewhere, and so carries on walking. ("Pilot")
Marisol shares with Zoila and the other maids a newspaper article featuring Flora; she reveals that she cleaned up the room the maid was murdered in, and Zoila warns her it may be best she keep her distance from the Powells. Back at the Delatour mansion, Zoila isn't too thrilled to see Valentina sitting down and making small talk with Remi; she calls her aside, reminding her that she is there to work, and that if she continues trying to get close to Remi then she will remove her from the home. Zoila and the other maids later join Carmen at Alejandro's mansion, who is currently out of town. Rosie complains about how little Carmen cleans, pointing out the collected dust on one of the tables, but Zoila insists she be quiet and just enjoy the time off work. She later discovers Valentina attended a movie with Remi and his friends the night before, and wanting to teach her a lesson, she convinces Genevieve to throw a party at her home for Remi and all of his friends, one which she and Valentina will work. Rosie reveals to her friends the affair which Peri is currently having with her costar, and is thinking of going to Spence about it; Marisol believes this is a bad idea. The party is had, and Valentina is humiliated to be seen working as a maid in front of Remi's friends. Zoila understands that Valentina doesn't realize what it is she is trying to protect her from, but that one day she will understand, and she is okay if her daughter has to hate her for the time being. ("Setting the Table")
Still determined to get with Remi, Valentina goes to Genevieve, who agrees to help her, and so she sends Zoila out across town to get her a jar of face cream. Zoila later meets with Marisol and Rosie, and Rosie shares her current predicament with Spence, who has given her a loan, but when thankfully hugging him, she was able to feel his erection. Zoila is not pleased to learn that Valentina helped Remi pack up his things to move back to Genevieve's mansion, and when he talks about buying Valentina a new sewing machine, she sees Genevieve is too blame for the two becoming increasingly close. Still upset about someone from the past, and not wanting the same thing to happen to her daughter, Zoila tells Genevieve she and Valentina will not be returning to work for a few days, giving Genevieve time to tell Remi to stay away. When having dinner with her husband, Pablo that evening, he believes it was wrong of Zoila to just walk out on Genevieve, but she argues that he wasn't there to know the full story, but she also doesn't want to talk about it. Genevieve shows up soon after, wanting to make up, but as Zoila and Pablo watch from a window, they see her get chased by a neighborhood dog, leading her to falling back-first into the bushes. Not wanting to ruin Zoila and Genevieve's friendship, Remi suggests he and Valentina stop hanging out, and after Genevieve is sent home and has fallen asleep, Zoila calls Henri, stating that he needs to visit as soon as he can. ("Wiping Away the Past")
Genevieve's brother, Henri pays a visit, and Zoila's shocked to learn that he is divorcing his wife, the woman he left her for, Cynthia. Back home later on, Zoila is annoyed to learn Pablo didn't change the light bulb in the pantry, and Valentina learns from her father the history Zoila shares with Henri. Zoila snaps at Marisol for her constant questions about Flora, but the maids all give in and reveal what they know about their deceased friend's pregnancy. Henri manages to convince Zoila to go to dinner with him to make up for the past, something Valentina overhears. At dinner the two reminisce about their past together, and Henri apologizes leaving the way he did; Zoila apologizes for Cynthia not making him happy. Things go well between the two at first, but when Zoila realizes that all Henri is trying to do is hook up with her, she gets up to leave, exclaiming that for twenty years she blamed herself for letting him get away, thinking she wasn't good enough for him, but now she realizes that it's him who isn't good enough for her. Valentina confronts Zoila when she arrives back at Genevieve's knowing that Henri is the reason her mother doesn't want her being with Remi. Zoila argues that all rich men are alike, while Valentina retaliates that they aren't but if Remi isn't what she expects then she would rather get hurt then end up with her second choice, spending twenty years wondering "what if?" like her mother. Zoila makes it clear, however, that she does love Pablo, and that he is the love of her life, to which Valentina begs Zoila let her end up with her own. Zoila ends up doing just that, and after Henri is gone, she cries in Genevieve's arms, never wanting to see him again. She apologizes for this, knowing that he is her brother and all, but Genevieve wholeheartedly points out that that may be, but that Zoila is also her sister. ("Making Your Bed")
Zoila and Genevieve return from a shopping trip, and the latter is upset over the fact that she is no longer a size zero. Valentina brings news that the gardeners and poolboy's checks have bounced, and Zoila calls Genevieve's business manager, only to learn he has disappeared, taking all of Genevieve's money with him, leaving her without a cent to her name. Zoila and Remi speak with Genevieve's lawyer, Michael Stappord, who reveals that though Genevieve's business manager has been found, they are unable to get with him because he is in Brunei, which the United States does not have an extradition treaty with. Michael suggest Genevieve sell her home, but she refuses, instead going to the spa, and Remi, meanwhile, learns that his trust fund is gone as well, and so he turns to cocaine. Zoila returns to Genevieve a ring that was given to her ten years before, but the latter refuses, wanting to find money another way. Zoila reveals that she will be quitting by the end of week if Genevieve can't think of something fast, for there are bills to pay, and after some thinking, the two realize that Genevieve could guilt money out of one of her ex-husbands. The two visit Philippe, Genevieve's second husband, but not wanting to whore herself out to him, Genevieve leaves. Zoila tells her she will find a way to get by, learning how to look out for herself and all, but realizing that's not what she want, she returns to Philippe agreeing to have sex will him for the million dollar painting he offered. She also ends up returning Zoila's ring, stating that she's being married six times, but the only one to stay by her side is her. When questioned what Genevieve will do now, she reveals that it's time to find a seventh husband. ("Walking the Dog")
Having heard Marisol quit her job for the Powells, Zoila and the other maids put money together, believing she must have needed it if she took a second job, and give it to her as a gift. Later on though, Rosie meets up with Zoila and Carmen, believing that there may be more to their new friend's story after a suspicious encounter from the grocery store. Zoila and Valentina are later doing Remi's laundry, and Valentina uses what she thought was detergent she found in Remi's room, but was actually cocaine. When finding out about this, she goes to Zoila, who reveals that Remi has been addicted to cocaine once before; she comforts her daughter who worries for the man she loves. Meanwhile, having learned that Marisol is a college professor and the mother of the man accused of Flora's murder, Rosie calls Zoila and Carmen over to reveal the truth, but Marisol blackmails her, having learned of her affair with Spence. Zoila later meets with Remi, who is ready to leave for a party; she reminisces back to when he was a child and how even then he was always taking care of his mother when it should have been the other way around, and how whenever he made mistakes he didn't ever have someone to fall back on like he should have. She states that things are different now, and that there are people who care about him. Remi realizes what is going on, that Valentina told her about his drug use, but he is unable to get away, for Philippe arrives to take him to rehab. ("Taking a Message")
Genevieve returns from a cruise, bringing with her a new fiancé, Alfred Pettigrove, a blind millionaire in search of a young wife to give him children, who has been tricked by Genevieve into believing she is only 39 years of age. She convinces Zoila and Valentina to keep the ruse going, and over dinner that evening, Zoila and Genevieve subtly bicker over the lie; Zoila makes comments such as Alfred should feel her neck (which is wrinkly) and that he shouldn't believe everything she says (regarding her age.) Alfred tells his tale of how he never got married and had a family, and he brags about Genevieve for agreeing to be his bride and mother a child for him, something that shocks both Zoila and Valentina. Zoila confronts Genevieve about this, in private, who reveals her plan to marry Alfred, claim to be barren, and then adopt with him, all of which Zoila strongly disapproves of. Genevieve claims it'll all work out, and that she will be a great mother, which is the last straw for Zoila, who about reveals Remi is away in rehab for cocaine, but Valentina interrupts just in time, stating that he is away with friends. After Genevieve goes to tend to Alfred, Valentina tells her mother that Remi can tell Genevieve everything when he is home, and that Alfred will eventually discover the truth on his own, for he is blind, not stupid. Later on though, while with Alfred, Zoila makes small talk, and reveals that Genevieve's father died in the Korean War, which leads to him piecing together the lies he has been told. He decides to leave Genevieve, leaving her unnerved with Zoila, but he changes his mind, under the condition Valentina lends her eggs for them to produce a child... ("Minding the Baby")
Needing Zoila's approval, first of all, before asking Valentina to lend her eggs, Genevieve tries to suck up to her maid, and leads into what she is going to ask. She reveals how Alfred has agreed to marry her, and that they have a surrogate, but that he still doesn't want anonymous eggs. Zoila believes that Genevieve is going to ask for her eggs at first, but is enraged and offended when Genevieve asks for Valentina's. She does not approve, and forbids Genevieve from even mentioning this to Valentina, even if it means Alfred will leave her. Later, out with the other maids, Zoila learns from Carmen that Odessa Burakov has cancer, and that Alejandro seems to not care as much, even though he knows she's ill. This leads to Zoila posing the question of would their bosses truly care if they died; Marisol believes it'd depend on how well the maid who replaced them was. Zoila later discovers that Alfred went to Valentina behind her back, and has convinced her into giving him one of her eggs. Though she forbids it, Valentina points out that it's her body, and she can do whatever she wants with it. This doesn't stop Zoila though, who goes to Genevieve, convincing her to talk Valentina out of it, for she herself should not be raising another child. Zoila reveals that Remi is in rehab, and that instead of having Valentina's child, she needs to focus on the one she already has. Because of this, Alfred leaves, meaning Valentina's are no longer needed; however, Zoila decides to sell the ring Genevieve once gave to her to pay for Valentina's tuition. ("Scrambling the Eggs")
With Remi returning home from rehab, Valentina confides in Zoila her fears of Remi hating her for getting him sent in the first place. This proves to not be the case though, for Remi returns, thankful for Valentina helping him get better, and he even kisses her. Zoila later meets with the maids; Carmen reveals that she agreed to shave Alejandro's back, but that it's more than what she bargained for... Valentina soon arrives, introducing the other maids to Remi, who meanwhile wishes to speak to Zoila. In private, he asks for permission to be with Valentina, but Zoila suggests he ask Pablo instead, and invites him over for dinner to meet him. Things do not go well, for Valentina starts to have second thoughts about him when she sees what little he really knows about. Zoila, meanwhile, has to quiet Pablo who continuously makes rude, inappropriate joke regarding Remi's former drug use. Things don't get better for Valentina though, and she ends up going off, annoyed with Remi; she storms off from the dinner table and Zoila goes after her, leaving Remi alone with Pablo who questions if he'd like heroine at the moment. After Remi leaves, Valentina apologizes for freaking out at dinner, but confesses that she's worried Remi still sees her as nothing but the help. Zoila reassures her though, and suggests that she quit, seeing as how she'll be starting class in the Fall anyway. ("Hanging the Drapes")
Having forgot her phone at work, Zoila returns to Genevieve's, only to find her in the company of Philippe, who she has been seeing since Remi returned from rehab. Zoila does not approve of this, worried that he will hurt Genevieve again; it's too late though, for she has already begun falling in love with him again. The following day, Philippe asks for Zoila's help with a wine stain on his shirt, but the two clash, for Zoila refuses to make his stay any easier after what he's done in the past. He reveals that Genevieve ended up confessing love for him the night before, and asked him to move back in; he questions if he should tell her Zoila asked him not to, but the maid states that he can - she just won't do his laundry. She later pays Margo Grayson to pretend to be a wine seller who tests Philippe, flirting with him; he gives her his card, just as Zoila suspected he would. However, Philippe and Genevieve later announce their engagement, and though Valentina is thrilled for them, Zoila and Remi are not. Zoila refuses to give her blessing, going on to reveal his encounter with Margo; Philippe retaliates that if Zoila keeps things up, such as ruining events like one, there will be changes, and it won't matter one way or another if her daughter is "doing" his son. Remi, with this being the last straw, punches his father in the face, proceeding to whisper something in his ear, and storm off. Despite this, Genevieve still decides to go through with the wedding. ("Cleaning Out the Closet")
Marisol and Rosie tell Zoila about Carmen being offered ten-thousand dollars to out Alejandro as a homosexual, something she strongly disapproves of, and hopes she does not go through with. She goes on to tell of the recent events between Remi and Philippe, something that catches Marisol's attention; however, Zoila soon has to go, for Genevieve has found a gray hair in her wig. Valentina later shares with Zoila Remi's plan to leave for Africa and work as an assistant, revealing she wishes to go with him as well. Zoila, as always, disapproves, stating that if Remi wishes to do this then he should, but that he can be with Valentina when he gets back. Valentina, however, states that she wasn't asking for permission, but telling Zoila her decision, something that enrages her mother. Zoila later speaks with Remi, hearing that the group of doctors have accepted his application; she goes on to say that for the longest time, Valentina has dreamed of being a designer. She talks about when a child, she would make dressed for her dolls, and so Zoila has since spent her time encouraging her daughter's dream, even making it her own. Remi realizes that Zoila doesn't want Valentina going to Africa with him, but he confesses he's scared of losing her. Zoila states that if he truly loves her then he will allow her to go to school; she convinces him to copy a note she has written into his handwriting, explaining why he is leaving without her. Remi believes that if he does this then she'll never forgive him, but Zoila promises that in a year she'll know the truth, and it'll be her who isn't forgiven. ("Getting Out the Blood")
Remi has taken Zoila's advice and left for Africa without saying goodbye to his loved ones. When Zoila is told to wake him up, she returns from his room with two letters in tow: one for Genevieve and the other for Valentina. Both of them are crushed while Zoila tries her best to rectify the situation, taking her daughter out to lunch in an attempt at cheering her up. However, Valentina can't help but be depressed the whole time, finally concluding that her mother was right all along... why would a boy like Remi love her? She's nothing. Zoila assures her that that's not true and that Remi loves her very much. Valentina wonders how she knows this, and Zoila says that she saw the look on his face when she asked him to write her that note. The teenage maid is shocked that her mother would do such a thing and publicly rejects her. Zoila tries profusely to apologize, but Valentina is later seen packing her bags for Africa, planning to find Remi and be with him for the next year. After Taylor Stappord is shot and loses her unborn child, Marisol decides it's time to call the maids together and confess to what she has been up to this whole time, revealing to have been trying to find out who really killed Flora. Zoila is shocked to learn that Marisol thinks it's Philippe, but she gets the other maids into Genevieve's engagement party so they may get a confession. Each of them play their own part in getting Philippe alone with Marisol; Zoila finally gives her blessing. The maids fail though, for Marisol is thrown out due to her previous encounters with Evelyn Powell. However, the Powells have meanwhile solved the mystery as well, and decide to take matters into their own hands by avenging Flora; they poison Philippe and throw him from the balcony, claiming it to have been suicide. The maids back them up on this, and so Marisol's son is exonerated. A picnic lunch is had to celebrate, but the happiness is cut short when Rosie is arrested by immigration... ("Totally Clean")
Three months after Rosie's arrest, Marisol arrives at her trial to be able to stay in the United States. Marisol sits down next to her friends, Carmen and Zoila. The two women ask Marisol if anything happened the night before with Nicholas. The former maid exclaims that he proposed, and she then begins to show off her huge engagement ring. Carmen is surprised and tells Marisol it's not real, but Marisol states that it is. Zoila cracks a joke and the three women start laughing. Judge D. Daves yells out, asking why there are people laughing in his courtroom. Marisol, Carmen, and Zoila immediately go silent. Rosie ends up being released, but has to return to court in six months, pleading her case for asylum. The four friends are then reunited. Later, Zoila tells Genevieve that she needs to drop the "grieving widow routine and go shopping". Genevieve receives a letter from Remi, and rushes off and won't tell Zoila what is in the letter. Later, Genevieve finds Valentina staying in a run down apartment, because Remi wrote that she had come back from Africa without him. He decided to stay in the Congo another year. Valentina didn't tell her mom that she is home because she is still mad at her for encouraging Remi to go to Africa. Genevieve reunites Zoila and Valentina. Zoila apologizes profusely, and then tells her to go get her stuff and come home. Valentina informs her she isn't coming home, she is going to live with Genevieve. However, thanks to Zoila, Valentina can't live with her former boss. ("An Ideal Husband")
Zoila is furious when she finds out her daughter Valentina is working as a live-in maid now for Evelyn and Adrian. Also, her marriage starts falling apart when Pablo grows tired of her being so controlling. Later, Zoila arrives at the Powell house and barges and announces to Valentina that she has come to pack her bags and take her home. Valentina informs her she won't be returning and to stop trying to control her. When Valentina turns around Zoila steals a Faberge egg off the counter and slips it into her purse, while Ethan the pool boy quietly watches. Later on, Ethan tells Valentina about this and says that Zoila most likely did it so the Powell's would think Valentina did it and then fire her. When Zoila arrives at her home, her husband Pablo is furious. Valentina called him and told him that Zoila stole the Faberge Egg. He yells at her and tells her he's tired of her trying to control his and Valentina's life. That night, Zoila returns home and finds that Pablo has packed a bag. He says he needs some space and he's "taking a break" and moving into a small apartment. He promises her it's going to be good for both of them. ("The Dark at the Top of the Stairs")
Marisol shows Dahlia's letter she found to Rosie and Zoila. Zoila is shocked and says Marisol should investigates about that letter. That night, Genevieve yells at Zoila for vacuuming too loudly, she needs sleep. Zoila confesses that she doesn't want to go home because her house is empty. Genevieve says Zoila needs to have some fun and invites her to her luncheon tomorrow as a guest. The next day, Genevieve's guests begin arriving at the luncheon, Zoila isn't having a good time, thanks to Tanya. The next morning, Tanya stops by and apologizes to Zoila for being so rotten to her at the luncheon. She reveals that Genevieve told her about Pablo dumping her. Zoila is furious and calls Genevieve out for gossiping about her. Genevieve comforts her and tells her she will never leave her like Pablo and Valentina, and she invites Zoila to stay with her for a few days. The next day, Zoila is present at Alejandro's funeral. ("Dangerous Liaisons")
Genevieve is getting Zoila dolled up. Pablo has called and wants to see her. Pablo reveals to Zoila that he is dating a woman named Helen from work and he is bringing Helen as his date to their godson's graduation party. Zoila is furious and threatens to remove one of his body parts. Then, Genevieve informs Zoila she has to go to her godson's graduation party. She encourages her to to go find a "handsome successful man" and show up with him on her arm to prove that she doesn't need Pablo anymore. Later, a florist, named Dave Grant, arrives at Genevieve's to deliver flowers from her latest admirer, he asks Zoila out and Genevieve persuades her to take him to her godson's graduation to make Pablo feel bad that she is dating a successful flower shop owner. Zoila takes Dave to her godson's graduation party, Pablo is shocked to see that she isn't as "devastated" as she though he would be. However, Zoila finds a check for $1,000 in her date's pocket from Genevieve. The florist confesses that the whole thing is staged and he isn't a florist, he's from an escort service, and Genevieve paid him to ask Zoila out. She heads home and doesn't tell Genevieve she knows the truth about Dave the florist, instead she tells Genevieve that she wants to marry Dave and have a baby with him. Genevieve freaks out and confesses Dave is a male prostitute. She did it because she is scared Zoila is going to wind up old and alone like her. Zoila forgives her... but tells her the next time she pulls a stunt like this it will be the day that she dies. ("Crimes of the Heart")
After Remi's return from Congo, Valentina visits him, but she explains to Genevieve that she is dating Ethan. Genevieve is upset by the news, and begin to argue with Valentina when Zoila arrives. She asks what is going on, and Genevieve replies that Valentina was leaving. The latter leaves the house, but Zoila is suspicious. Later, Valentina pays Zoila a visit and tells her she needs advice and "apologizes for being such a brat". She reveals that she loves Remi, but he broke his heart. She cares about Ethan too, but at the end of the day he can hurt her too. Zoila informs her she is not telling her what to do, and she needs to make this decision herself. Later, Remi gets out of bed and heads downstairs to Zoila and Genevieve. He begs Zoila to talk to Valentina and convince her to give him another chance, but Zoila informs him she doesn't meddle anymore and there is nothing she can do. After Zoila leaves Genevieve promises Remi that she will get Valentina back for him. ("The Bad Seed")
Zoila has also gotten back into dating. She met some pompous chef, named Javier Mendoza, at the market and they started trading barbs. These insults turned into flirtation and now she has a date. Genevieve was able to pull her head out of her son's business long enough to find out what's been going on with Zoila. Zoila agreed to a date at the chef's house and it wasn't until her boss pointed it out that she realized her date might have certain expectations. Zoila worked herself up into a state wondering if she had to give up sex on the first date. Although she did get off lucky. Javier didn't want to push Zoila into something she wasn't ready for. They agree to just be friends, and one night they can maybe try something new, referring to sex. ("Private Lives")
Zoila and Javier head back to his house after a date. She tells him that his home is "warm and inviting, but covered in dirt", he needs a maid. He says he has one, but she has worked for him for ten years and he can't fire her. Zoila convinces him to talk to her. Later, Remi confronts Zoila about Ethan, and says that he got a "weird vibe" from him. Zoila reminds him that she promised Valentina she wouldn't meddle in his life. She tells Remi she needs to remind Valentina what is "right about himself" not what is wrong with Ethan. The next day, Rosie introduces her friend Concepcion to Zoila and Carmen. Concepcion is Javier's maid, and she is in tears because Javier says she has to clean the entire house after his girlfriend seen how dirty it is. She cries that she is supposed to go to San Diego to see her dying grandmother. Zoila feels guilty and tells her to give her the keys to Javier's house. Later, Zoila sneaks in to Javier's house and begins doing all of the cleaning for his maid, who she promised to cover for. His maid has no idea that Zoila is his girlfriend though. She gets all of the cleaning done, and then rushes home and gets dressed and meets him back at his house for their date. Javier is furious he says that he has been paying her good money for ten years and she has been holding back on him. Zoila confesses to him that she met Concepcion and felt bad for her, so she cleaned his house for her. Javier forgives Zoila, saying she likes to come off tough and unforgiving, but she has a compassionate, caring heart. They kiss and decide to make love. ("Betrayal")
Genevieve returns home and finds Zoila passed out in the recliner with the vacuum cleaner on. She confesses that she was up late with Javier the night before. Genevieve comes to the conclusion that Zoila and Javier are serious and demand that she invite him over so that she can meet him, because she is like Zoila's sister. That night, Javier, Zoila, and Genevieve sit down for dinner. Zoila is annoyed when Genevieve shamelessly flirts with Javier all night. Zoila is really upset and she reveals to Javier the true age of Genevieve: 61 years old. The next morning, Zoila confronts Genevieve and asks her why she has been flirting with her boyfriend Javier. Genevieve fumes that Zoila is just jealous of her "ageless beauty". When Zoila storms off Genevieve receives a phone call from her doctor telling her that her test results are in and she needs to come in to his office. Later, Zoila is with Javier and tells him she had a fight with Genevieve about what happened last night. Zoila adds that Genevieve means a lot to her and she is worried because she left in the middle of their fight, and that's not like her. Then, the maid kisses Javier. Later, Zoila goes to see Genevieve. She asks her where she went this morning. The woman tells her Dr. Kimball needed to see her because there is a problem with her kidneys. She adds it seems the little buggers are starting to shut down, so she has to start dialysis. Zoila is really sorry for Genevieve, especially because it could be life-threatening for people of her age. Zoila replies she needs her to be okay and asks her to come out to dinner with her and Javier again. Genevieve agrees. ("Night, Mother")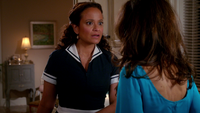 "You brought her here. You get rid of her. And that's an order." ("The Visit")
Genevieve is on a hunt for a kidney, unfortunately Remi isn't a match. Zoila says she should get tested too, but Genevieve replies she knows how much Tequila Zoila put away on the weekends, and she prefers to does not want an abused kidney. Remi thinks they should contact their cousins from Oklahoma, but Genevieve refuses because she hates them and she does not want doesn't want anything to do with them. Then, Remi suggest to call Henri but his mother says no and makes him promise not to call them. After Genevieve left the room, Zoila asks Henri's number to Remi, because if Remi promises to does not call him, Zoila did not promise something. After she called Henri, Zoila is shocked when Genevieve's mom, Velma, shows up on her doorstep, but not as shocked as Genevieve. That night, Remi and Genevieve sit down for an awkward dinner with Velma. She reveals that Genevieve is a phony and her real name is Eunice Mudge; then she takes her false teeth out to get corn out of them. Disgusted, Genevieve storms out and orders Zoila to get rid of her mom. That night, Zoila corners Velma and tries to convince her to go home because Genevieve needs her rest. The old woman gives her a speech about how hard it was for her to be a single mother in the 1950's and how ungrateful Genevieve is for everything she did for her. She says if Genevieve wants her to leave, she can tell her herself. Zoila heads back to Genevieve's room and lectures her about the fifth commandment and honoring her mother. She reminds her that her mom isn't going to be around forever and she should try to have a relationship with her. Later, Genevieve says to Zoila she is right and she can't kick her mother out of her house because she will regret it. However, she adds she needs more time to figure out how to handle her, so she is going to the Four Seasons for a few weeks. Genevieve leaves the house, asking Zoila to take care of her mother. ("The Visit")
Zoila is struggling to get along with Velma, who has taken up residence at Genevieve's mansion since she learned about her daughter's health problems. Genevieve abandoned Zoila and let her go with her mom and ran away to a spa. Zoila is getting mad thanks to Velma, who uses a bell in order to call her. Later, Zoila pays Genevieve a visit at the spa, and informs her she has to come home and deal with her mom. Genevieve refuses to come home, she can't stand to be in the same house as her. Zoila tells her this time she can stand up to her because she will protect her if Velma attacks her. Finally, Genevieve agrees to come home after her massage. Later, Genevieve and Zoila return home, and Genevieve gives her mom a long speech about treating her like crap her entire life and how she doesn't need her negative energy. Zoila is commending Genevieve on finally standing up to her mom, and then Velma drops to the floor. She is rushed to the hospital, a few hours later Genevieve returns from the hospital in tears because her mom isn't dead. She just has a minor heart problem. Genevieve is sad because she realized her mother won't ever being nice with her. Zoila tries to console her but Genevieve tells her Zoila is more a mother to her than Velma. Then, Zoila says Genevieve is going to stick by her mother and she is gonna give that woman the respect and dignity she refuses to give her, because that's how Zoila raised her. The next day, Velma is back in a wheelchair. Genevieve tells her Zoila helps her to pack for her trip back to Oklahoma. Velma teases her about her clothes, but Genevieve replies if Velma wants her to change she will do it because she decided to be a good daughter. Then, Zoila tells Velma Genevieve is going to push her because it will be safer for her. Genevieve and Velma begin their trip to the airport, while the old woman teases her daughter by saying she never know how to drive. ("Long Day's Journey Into Night")
Zoila is at Javier's home, preparing breakfast. Javier approaches her in his bath robe, asking her if she had a goodnight. Zoila confirms it when the doorbell rings. Javier goes to open the door. It is Pablo, asking if Zoila is there. Javier is a bit surprised when Zoila arrives. Pablo tells Zoila that it is an emergency and he needs her to come with him. She refuses, but he reveals that Valentina is in jail because there was blood in the car. They rush out the door. Later, Zoila and Pablo arrive at the police station and find Remi - who called Pablo - in the waiting room. Remi tells them Valentina is being questioned, and the cops refuse to let Remi see her. Zoila and Pablo go in the room where they see Valentina; she is eased to see them. The young girl tells to her parents she knows it looks bad but she swears she didn't do anything wrong. A cop tells them she has refused to answer any questions and hasn't been charged with anything, so Pablo tells him they can take her home. The cop strongly advises Valentina to cooperate, but they leave anyway. That night, at their home, Zoila and Pablo question Valentina about the blood in her car, she confesses that it was Ethan's blood and he got stabbed while he was robbing Spence Westmore's house. Zoila insists they call the police because they killed someone, but Valentina doesn't want to ruin Ethan's life. Pablo confesses to Valentina that he spent 14 months in jail when he was her age because he stole a car with his friends. Zoila tells her he didn't wanted her to know about it because Pablo thinks Valentina would be ashamed of him. Then, Pablo tells her he doesn't want her to make the same mistake. Later, Zoila and Pablo are making plans with a lawyer to accompany Valentina to the station. Zoila offers to cook him dinner, and he confesses that his girlfriend Helen isn't "much of a cook". They discuss their new relationships, and how happy they are. Pablo points out they always made a great team, and then kisses Zoila. ("You Can't Take It With You")
Zoila wakes up next to Pablo, and realizes she had sex with him the night before. She heads out to the kitchen to get her and Pablo a cup of coffee when Valentina catches her. Zoila asks her what she is doing there, and Valentina answers that she has to meet with the police to talk to them about Ethan so she decided to spend the night. Then, Valentina realizes Zoila has two cups of coffee and she tells to her mother she likes Javier because he is really nice. But, then the doorbell rings and Javier is at the door, saying to Zoila he has pastelitos so they can have their breakfast together. Zoila heads to the park with him, and then Pablo comes out of the bedroom, and announces he and Zoila are getting back together to a confused Valentina. Later, Valentina goes to Genevieve's house, in order to talk with her mother. She congratulates her with irony because Pablo told her they are getting back together. Zoila says Pablo is probably confused and Valentina says it is because Zoila slept with him. Then, she adds if she does not want to get back with Javier she needs to tell him. However, Zoila says she does not know if she wants to be with Pablo or Javier. She says she needs to think about it. That night, at Javier's house, Zoila sits down with him and decides to be honest with him. However, before Zoila confesses that she slept with Pablo, Javier looks embarrassed and says Genevieve probably told her everything. He reveals that he bought them two tickets to Paris. She is so moved by the gesture, she changes her mind and doesn't come clean to him about her romp with Pablo the night before. The next day, Zoila heads to Genevieve's house and finds her crying, she reveals that she can't find a donor and the doctor says that she needs a kidney ASAP. She cries that she "doesn't want to die just yet" because she still looks good. Zoila wants to get tested and see if she is a match, Genevieve finally caves and agrees to take her kidney if she is a match. That night, Zoila arrives at home, after she get tested for Genevieve's kidney. She finds Pablo sitting in the living-room, she says to him they have had a great time but she isn't going to take him back, and he shouldn't look too far in to their hook up, because she still cannot not forgive him what he did to her. He begs her to take him back, but she says she is going out of town and they can talk about it when she returns. ("Proof")
Carmen, Zoila, Rosie, and Marisol are heading to lunch. They arrive at the restaurant, and there is a sign on the door that says "closed for private event". Inside, the girls find Spence waiting for Rosie in a room decked out in flowers. The girls leave the room while Rosie goes with Spence, asking if she wants to marry him. She agrees. That night, at her house, Genevieve announces Pablo is the donor, Zoila is surprised and says that he is just doing it because he is trying to win her back. She thinks she wants to be with Javier because she loves him. Genevieve tells her if she loves Pablo and if he loves her, she should be with Pablo so he will give her his kidney. Later, Zoila pays Javier a visit and she decides to tell him the truth: they can't go to Paris because she had sex with Pablo. Javier says he is really angry but he cans forgive her. Zoila explains that she thinks she will give Pablo a second chance. Later, Pablo moves back to his house. Zoila does not seem really enjoyed, but the doorbell rings. Zoila opens the door, and realizes it is Helen, who shows up at their house to drop off Pablo's stuff. The latter reveals she kicked Pablo out a month ago because he is a liar. Zoila realizes that the only reason Pablo tried to get back together with her is because he had no place to go. She is happy with that and tells Pablo goodbye. Then, she goes back to Javier's home and she kisses him. The next day is Rosie's big day, and her three friends help her get ready. Rosie doesn't know if she should marry Spence, because she doesn't think she will be as happy with Spence as she was with Ernesto. However, her friends tell her she should not compare Spence with Ernesto, and her wedding will be happy because Spence loves her so much. Before the ceremony, Zoila receives a phone call from Dr. Kimball, telling her she is pregnant. After Rosie and Spence are married, Zoila and the others guests go out of the church, and they watch as Rosie and Spence walk down the steps. Everyone's happiness is cut short, however, as Ty arrives and starts shooting at everyone. Rosie drops her blood covered bouquet, leaving it unknown who was shot. ("Look Back in Anger")
During the shooting, three people are shot: Pablo Diaz, the minister and Rosie who falls into a coma. When she wakes up at the hospital, Marisol, Carmen and Zoila are present, telling her that she has been in a coma for the last four months. They also tell her that Pablo has been killed, and Rosie adds she now understands why Zoila looks fat, thinking she ate when she had been grieving. Later, Zoila heads out to Genevieve's kitchen, and she notices her boss is drinking some margaritas. She asks Zoila to join her, but the maid says she wants to stay healthy. Genevieve jokes that it must be because Zoila became fat. Zoila confesses that she is pregnant. She adds no one knows because she doesn't know if Javier is the father or Pablo. However, she plans to do the DNA test and find out. The next day, Marisol heads out to lunch with Zoila, Carmen and another girl. This girl introduces herself as Blanca. Zoila reveals they met a couple of months ago, because Blanca works down the street from Genevieve as a maid. After a discussion, Marisol says she will recommand Blanca to the Stappord family. At Genevieve's house, she and Zoila are plotting – Zoila is going to rip out 10 strands of Javier's hair to do the DNA test without him noticing. Zoila says she will distract him with her sex appeal, which Genevieve finds funny. Javier arrives at the door and Zoila hugs him. She kisses him, says she is really happy to see him and she manages to get his hair. Genevieve slip them in to an envelope. Later, Zoila gets a phone call from Dr. Stevens for the DNA test results – Javier is not the father. She is pregnant with Pablo's baby. Genevieve tells her the baby will still need a father, so she could just pretend it is Javier's baby. Zoila tells her she does not want to lie. That night, Zoila tells Javier that she is pregnant. Before she gets a chance to explain that he is not the father, Javier celebrates the news and tells her that it's all he ever wanted: to have a child with the woman he loves. Zoila does not have the heart afterwards to tell him that it is not his baby. ("Awakenings")
At the hospital, Zoila reveals to Carmen, Marisol and Rosie that is pregnant, and is offended to see her friends did a bet on her weight. Later, Valentina visits her mother at Genevieve's house, and tells her she is getting married with Remi. Zoila is really shocked, telling her she is too young and she knows nothing about life. She is also quite surprised but pleased when Valentina reveals she never had sex with Remi, and that she listened her when she told her sexual relationships are sin before the wedding. Even after this revelation, Zoila still refuses to let Val marry Remi. That night, Zoila heads out to a romantic dinner with Javier. She complains about how Valentina can get married. At this moment, a waiter is coming asking if they are ready for the special dessert. Javier does not seem too excited for it, but Zoila rushes the waiter to bring it because she is eating for two. Javier opens the dessert revealing an engagement ring inside it. Zoila is shocked, and Javier kneels before Zoila and asks her to marry him. Zoila is really happy, but then wonders what she will say to Valentina after what she told her. The next day, Zoila tells Val that she has her blessing and she supports her marrying Remi. Then, she reveals that she Javier are getting married. She also reveals that she is pregnant. Valentina is really angry: she shouts at Zoila that Pablo just died. She adds that Zoila is not getting her blessing, and she never will. Later, Carmen and Zoila visits Spence. The latter was asked by Rosie to clean the apartment, but he manipulates the two maids to do it at this place. Later, Valentina pays Zoila a visit and admits that she got so upset because she felt like her mom is starting a new life without her. Zoila says she understands that, because Val is starting a new life with Remi but without her. They both apologize to each other for overreacting over their weddings, and they hug each other. ("From Here to Eternity")
Zoila and Javier ask Genevieve if she wants to be the witness of their wedding at the City Hall. However, Genevieve refuses to let Zoila rush such a memorable occasion, and asks them to organize the wedding in her house. Javier is pleased by the asking, and Zoila reluctantly agrees. At a wedding shop, Zoila is presenting some wedding dresses to Rosie, Carmen, Marisol and Blanca. After she chose which one will be her dress, she asks Rosie to help her to get out of it. In the fitting room, Rosie notices how big Zoila is for a two month pregnant woman. She adds she would have said four of five months. Zoila tries to avoid the discussion, but Rosie realizes it would mean she was already pregnant before the shooting and that Zoila slept with Pablo before it. Zoila admits it is Pablo's baby, adding she does not want Javier to figure it out. Rosie tells her she does not look convinced. Later, Genevieve introduces the caretaker of the wedding to Zoila: Joelle. However, the two women are surprised to discover that she is Javier's ex-wife. Zoila complains about why Javier did not tell her he has been already married. However, Genevieve tells her they are now even, since Zoila did not tell him about the baby's father, so everything is perfect. Zoila agrees with this idea. However, during the wedding day, Javier admits to Zoila that he was married, saying it is a relief to admit it. Zoila is ill-at-ease because she is n more even with Javier. She hesitates to marry Javier, but Genevieve convinces her to do it. Eventually, Zoila joins Javier in front of the minister, and the ceremony begins. It is soon interrupted when Rosie faints, after she discovered that Ernesto is alive. When Zoila goes to check on her, she hears an angry Rosie asking Spence how can he lied to her about Ernesto if he loves her. Zoila realizes she has to tell the truth to Javier, which she does. Javier is shocked, and breaks up with her, adding how he could ever trust her again. A crying Zoila is comforted by Genevieve. ("The Awful Truth")
Zoila is cleaning, when Genevieve arrives with a baby mobile, explaining she is converting the guest room into a nursery so Zoila cans stay there with the baby. Zoila is really touched. At this moment, Genevieve receives a phone call from Dr. Neff, her kidney specialist, who asks her to come at his office the next day. Genevieve thinks that something must be wrong with her new kidney. Zoila comforts her. Later, Zoila meets Rosie, Marisol and Carmen. They make a pact: no more weddings, because bad things happen at weddings. Then, Carmen reveals Blanca quit and left town, without saying goodbye. Everyone is surprised because it does not sound like her. The next day, Zoila and Genevieve are at Dr. Neff's office. The latter reveals that nothing is wrong with Genevieve's kidney; he just has fallen in love with her so he wanted to admit his feelings for her. Zoila thinks this kind of attitude is unprofessional, but Genevieve forces her to leave the office. Later, Genevieve is back and tells Zoila that Christopher will come for dinner. Zoila tells her to slow down, because she always do that and she end up getting hurt. During the dinner, Zoila keeps asking a lot of questions to the doctor. At a moment, Genevieve asks her to bring the next course. When she comes back, she hears that Christopher is asking Genevieve to go with him to Greece for the next six months. When her boss agrees, Zoila is so shocked that she accidentally lets the course falling on Christopher. Later, an angry Genevieve asks Zoila if she is happy about what happened. Zoila tells her she is sorry, and it was an accident. Genevieve asks her what is the problem if she goes to Greece, and Zoila explains she is abandoning her when she needs her the most. A crying Zoila reveals she is now alone, because even Javier left her, and she is terrified by her pregnancy. Realizing the problem, Genevieve tells her she will not go to Greece and she will stay to take care of her. Then, she comforts Zoila. ("Since You Went Away")
Zoila welcomes Michael Stappord after the arrival of Detective Figueroa. When the latter questions Genevieve, Zoila is shocked to hear that she had an affair with Louie Becker, but even more shocked when Genevieve refuses to say why their relationship ended badly. Later, Zoila confronts Genevieve and asks her to tell her what happened with Louie. Genevieve still refuses to answer, because it is too awful. However, Zoila convinces her to talk, and Genevieve explains she did a sex tape with Louie, and they were doing the blooming orchid. Zoila is shocked, but Genevieve adds that Louie showed the video to his friends, so was furious when she found out. Zoila tells her she should tell it to the police, but her boss refuses because if people find out, she will be a laughingstock and Christopher could not forgive her. Then, she forces Zoila to promise she will never talk about the sex tape. Later, Zoila calls Carmen, asking details about the blooming orchid. Carmen wants to know why she is asking that, and Zoila reveals Genevieve did it. Carmen begins to explain the position to Zoila, but she has to hang out when she hears Evelyn shouting her name. Unbeknownst to Zoila, Carmen reveals to Evelyn that Genevieve did a sex tape. Later, Zoila, Rosie, Carmen and Marisol are taking a coffee at a café. Zoila asks why they are going to Marisol's house, but the latter reveals she is avoiding her maid, because she admitted he is gorgeous and he heard it. Her friends tells her she should ask out, but she refuses. That night, Genevieve admits to Zoila she spent the afternoon at the police station, because Evelyn made public her sex tape so she had nothing to hide anymore. The two women begin to argue. Genevieve says that Zoila betrayed her, while Zoila tells Genevieve it is her fault if Javier left her. Genevieve retorts to do not blame her for what happened, because she was not the one to sleep with two men at the same time. Eventually, Genevieve decides to leave and to go to Greece with Christopher. ("The Talk of the Town")
At Genevieve's house, Zoila is on the phone with Valentina, when someone is ringing at the door. She hangs out and goes to see who is it – it's her sister Reina. Zoila reluctantly lets her in. Reina explains she pops up for a visit, because she heard that her sister was pregnant, and she wanted to come help out. Zoila tries to tell Reina that she can't stay there because it is not her house, but Reina knows that Genevieve is out of town so she refuses to leave. Later, Zoila heads out to lunch with Rosie, because it is the perfect excuse to get away from her sister. Rosie reveals she is really uncomfortable with God, since the priest told her that she can't even have sex with Spence. According to him, she is still married to Ernesto. Zoila convinces her that if she follows her heart, God will accept it. Later, Reina says she is sorry about Pablo's death, but is happy that a part of him still lives in the baby. However, Reina notices Zoila is not really excited about her baby. Zoila asks her when she will come back at her home, but Reina breaks down in tears and says that she can't go home because she and Victor are getting a divorce. Zoila decides to talk with her brother-in-law. She pays Victor a visit, and the latter reveals that if they are getting a divorce, it is because Reina cheated on him dozens of times, including Pablo. Zoila is angry by the news. Later, Reina returns home and Zoila is throwing her clothes out, screaming at her for having sex with Pablo. The sisters wind up in a shoving match at the top of the stairs, and pregnant Zoila falls down the stairs. Reina rushes to Zoila's side, who is unconscious. At the hospital, the doctor reassures them that the baby is just fine – and it is a girl. Zoila starts crying, because she realized how much she loved her. The doctor informs them that Zoila's ankle is broken, so she will someone to take care of her. Reina is happy because now, she has a good reason to stay with her sister. Zoila is not pleased by the news. ("She Done Him Wrong")
Zoila returns home, and soon discovers her younger sister in the kitchen, kissing a delivery man. Zoila explains to her sister that she is driving her crazy so she has to leave. However, Reina refuses. Zoila decides to leave a message for Genevieve, asking her to come back as soon as she can because of an "emergency". When Genevieve is back at home, she is shocked to discover Zoila's condition, but the latter explains she is fine. However, Zoila is worried after their fight before she left, but Genevieve assures her that that is water under the bridge, adding she could not bear the thought of her suffering there all alone. Zoila explains she needs help to get Reina out of the house. The next day, Zoila, Marisol, Carmen and Rosie are together at a café. The latter tells her friends that she thinks the Stappords are lying about Katy's origin, but Zoila and the others do not believe her. Later, Evelyn visits Zoila, with an expansive gift for her baby. Evelyn explains she wants to take care of her baby in exchange for a large sum of money. Zoila is shocked, asking her if she really wants to buy her baby, but Evelyn retorts it is more adopting her baby... for a fee. Zoila refuses. When Reina comes back, she tells Zoila that Genevieve gave her a job as her new personal shopper instead of asking her to leave. Zoila confronts her boss, and tells her that she was manipulated by Reina, but Genevieve points out that Zoila did the same thing to get her home from Greece. Eventually, Genevieve recalls how Zoila always said Reina was a bad sister... but maybe it's the other way around. Later, Zoila tells Reina that she is taking Genevieve to the restaurant that night. Zoila adds that they will be very long so Reina should not wait on them. When Zoila and Genevieve come back, they discover a naked man with Reina. The latter is shocked that they are back so soon. An angry Genevieve asks Reina to leave the house. Reina realizes her sister tricked her, which the latter confirms. An angry Reina leaves the house. ("The Turning Point")
Marisol, Carmen, Rosie and Zoila are watching the news, which reveal that Blanca's body has been found by the police. The reporter says that the police think Blanca killed herself, because they found a confession so they think she is the one who killed Louie Becker. However, Zoila and the others think that Blanca has been killed and framed. Zoila is back at the house, and Genevieve has a big announcement – Christopher has returned from Greece, because he cares deeply about her. Then, Genevieve reveals he is moving in to the mansion with her and Zoila, because he rented out his house when he went to Greece. Zoila thinks that it is a horrible idea. At his moment, Christopher barges in the door with his suitcase. At a moment of the night, Zoila is woke up because Christopher and Genevieve are making love. Christopher keeps repeating "Oh la la" during the sexual act. The next morning, Zoila asks Genevieve if there is a chance that "Oh la la" will stop. Genevieve reveals she wishes because it drives her insane too, but she refuses to talk about it with Christopher. Later, Zoila brings a soup to Christopher, and the latter says "Oh la la" when he eats it. Zoila tells him that he says "Ooh la la" a lot, which is ridiculous. Christopher does not believe it, because everybody loves it especially Genevieve. However, Zoila admits Genevieve is crazy about him, so that is why it is hard for her to admit she also finds it ridiculous... in every single context. Christopher understands Genevieve told her about their sex relationships, and he leaves the room with an extreme confusion. Zoila realizes she did a mistake. That night, Zoila hears Genevieve and Christopher arguing about the fact that Genevieve told everything to Zoila, because they are too close. The next day, Zoila tells Genevieve that Christopher he may be right about them, and announces she will move back to her old house. Genevieve asks her if she will be okay on her own, but Zoila reassures her. Genevieve is saddened by the news, and the two friends share a hug. ("Cries and Whispers")
Carmen tells the girls about a kiss she shared with her music producer Jacklyn, and Zoila asks her friend to show her how she kissed her so that she can determine what it meant. Carmen refuses to kiss Zoila, kissing Rosie instead, but all they advise is that she simply ask Jacklyn what the kiss was to her. Later, Zoila is struggling to find anything in the kitchen because Dr. Neff is moving everything around, as well as re-cleaning things she's already cleaned. She finds this incredibly insulting and so goes to Genevieve about the issue, but Genevieve ends up taking her boyfriend's side because Zoila's not exactly at her best while pregnant, to Zoila's chagrin. She tells the girls at lunch about how she plans to go into Genevieve's house on her day off and clean every inch of it, thus proving what a good maid she still is. However, when she goes to do this, she meets Joy, Dr. Neff's maid who Genevieve suggested should come in on Zoila's days off so that they don't find out about each other. Genevieve and Neff are confronted about this, but Genevieve assures her maid that, despite what she thinks, she's not betraying her because she needs help while she's pregnant. Zoila has many issues with this but eventually comes to accept it. Later, when she's done sweeping, she asks Joy to get down on her knees and scoop up the dirt, which she can no longer do. Joy agrees to do this... but also ends up sweeping what Zoila's already swept. She isn't there to help; she's there to win. ("Bad Girl")
Zoila tries impressing Dr. Neff now that Genevieve has gone away to visit Valentina and Remi in New York. However, this is very difficult to do when Joy - Neff's maid - is constantly upstaging her. When Zoila makes a turkey sandwich, Joy makes a turkey dinner; when Zoila folds the towels neatly, Joy makes them into a swan; when Zoila makes the bed, Joy adds a mint to the pillow; and finally, when Zoila vacuums the floor, Joy takes out a giant floor-buffer. Sick of losing this rivalry, Zoila simply retires to cleaning a vase, but Joy tells her to stop. She ends up taking the vase and running away with it... but she slips over on the spot where she buffed the floors. As it turns out, the vase was in fact an urn, and the remains of Dr. Neff's beloved mother Lurlene come spilling out all over Joy. She begins moaning about how disappointed Neff will be in her, since he gave her a job after her mother died and has been good to her like a father for most of her life, and so Zoila just fills the urn with vacuum dust in the hopes that he won't find out. This doesn't work though, because Neff senses that his "mother" is lighter, and so Zoila abides by the "maid code" that she earlier accused Joy of flouting. She says how she accidentally spilled some of Lurlene, and Neff is furious; Joy is grateful that Zoila took the blame for her, but then she speaks to Dr. Neff and he says that she is to help him get rid of Zoila by making Genevieve choose him over her. ("Whiplash")
Joy approaches Zoila and asks to borrow $100, explaining that Dr. Neff's check bounced because he's broke and he's using Genevieve for her money. Zoila discusses this with the girls, wanting to stay out of it, but they agree that they'd like to know if they were dating a leech. When it looks like Neff is about to propose to Genevieve, Zoila runs into the room to interrupt, making up the excuse that she's going into labor. The three of them - she, Neff and Genevieve - go to the hospital where Zoila admits to her boss that she's faking, then telling her about Neff's financial situation. Genevieve fears that the rumor might be true and, when Neff proposes again, she confronts him about it. He tells her that the reason he's low on funds right now is because he just made a large donation to the hospital and had to move some things around - but he's still rich. This is a great comfort to Genevieve, though he wonders who told her this lie in the first place. He assumes it was Zoila and, as such, demands that Genevieve make a choice between him and her maid, considering the latter is constantly trying to undermine their relationship. Genevieve ends up making the wrong choice and fires Zoila in favor of her new fiancé. ("Terms of Endearment")
Zoila calls Marisol in search of a job and ends up stuck with Gail Fleming, which she doesn't mind at first considering she doesn't want to be friends with her boss this time around anyway. When the neighbor's dog is barking all day, Zoila offers to go convince her to get it to quieten down, but when the neighbor, Susie, hears that the barking is bothering Gail, she refuses to do anything about it. As such, Gail ends up kidnapping the dog and giving it to a kill shelter, saying that it's a stray. This absolutely horrifies Zoila who ends up rescuing Susie's German Shepherd from the pound and convincing her to adopt a new Chihuahua - who, for a small dog, makes a lot of noise. She revels in Gail's dissatisfaction as she says that, while she doesn't need to like her boss, she does need to respect her, and she doesn't respect Gail. Meanwhile, Joy confesses to Genevieve that she lied to Zoila about Dr. Neff being poor as a part of his scheme to drive her away. Genevieve is shocked and subsequently kicks Neff out of her house. He suggests couples' therapy, but she points out that therapy is for couples who want their relationship to work out, while she has no longer has any interest in being with him. He can't believe she's choosing her maid over him, but she claims that she's choosing her friend over him. She meets up with Zoila later and tries convincing her to come back, but Zoila is still deeply hurt over how Genevieve tossed her aside. As such, Genevieve suggests that the two of them go to couples' therapy, not wanting to give up on this relationship. ("Suspicion")
Genevieve and Zoila attend a couples therapy session, but its legitimacy is skewed when Genevieve flirts with the therapist so as to get him to take her side. Zoila berates her for this back at the mansion, accusing her boss of selfishness, and decides to return to therapy immediately when she learns that Genevieve has been meeting with Javier behind her back. Genevieve insists that she's been trying to get him to take Zoila back, but Zoila doesn't care; on their way up to the therapist's office, the elevator becomes stuck and, to make matters worse, Zoila's water breaks. She tells Genevieve that she's going to have to deliver this baby, but Genevieve refuses, using her heels to pry the elevator doors apart so that she can climb out and get help. Zoila is brought to the hospital and admits that Genevieve was amazing today, taking back what she said earlier about her being selfish. She tells her boss that she loves her, and Genevieve reciprocates the feeling. However, there is a complication in the birth, and Zoila begins crashing. Genevieve, who's just finished phoning Valentina and telling her that her baby sister is on the way, is then approached by a doctor and asked who should be prioritized in the pending surgery - Zoila or her baby. ("Anatomy of a Murder")
I'm still Zoila. I wear a uniform, I'm not rich, but I'm still me. And I need your help. Please.

Zoila Diaz, "Much Ado About Buffing"
After the loss of her baby, Zoila spends six months in New York with Valentina and Remi. She then returns to Genevieve's house, having set her up with Rosie as a maid. She reveals that Marisol has a new job for her, but Genevieve wants her to come back, revealing that she hates Rosie and all her constant whining. Zoila refuses to snatch her friend's job away, and so Genevieve decides that she'll simply have two maids, to Zoila's apparent discomfort. Later, after having given Rosie some time off, Genevieve is cleaning the dishes herself, and Zoila tells her that she doesn't have to do her job for her just because of what happened. Still, Genevieve feels as though she should do something, but Zoila insists that she merely wants things to return to normal. This seems impossible though, for no matter what Genevieve tries it always seems to irk Zoila in some way. Finally, Zoila reveals that she finds it hard to be in this house and see Genevieve everyday after what she did; she says that Genevieve made the wrong decision in choosing her to live as opposed to her baby, and now she's sad all the time, wishing she'd died that day. After displaying some raw emotion, she decides that she can't be Genevieve's maid anymore, and she tries handing her employer back her keys before simply leaving them on the table and quitting. Marisol then sets her up with that other job, working in what used to be the Stappord house for a fashion designer who won't be there for another six months. Zoila takes comfort in the solitude, and later, while unpacking her new boss' boxes, she decides to have some fun and dress up a little. This means that, when the handsome neighbor Kyle shows up to drop off a bottle of wine, he mistakes Zoila for the new owner of the house, and she finds him charming enough to pretend that she is. ("Once More Unto the Bleach")
Carmen visits Zoila over at her new place of employment when Kyle stops by to ask her on a date, and she accepts. Carmen then learns that Zoila lied to him about owning the house and decides that she's never liked her friend more, encouraging the relationship. After discussing the recent murder of Peri Westmore with the girls, Zoila goes on to have lots of fun on her date, but then they return to his place where she comes to discover that he lives with his mother, Frances. She tells this to Carmen who immediately orders that Zoila dump the guy, for he's obviously disturbed, but Zoila really likes him and wants to give it a chance, and so she decides to proceed into a dinner with her new boyfriend and his mother. As the dinner progresses, things only get worse as she comes to realize just how close they are; they even travel together. They want to show her the photo album and her contrived attitude make Frances realize that she's weirded out by how close she and Kyle are. She confronts Zoila about this in private, eventually revealing that the reason she loves her son so much is because he was her miracle baby, having been born after a long series of miscarriages that left her with a looming sense of loss and depression. This obviously strikes a cord with Zoila and Frances senses that she needs a hug, and so she gives her one. She says that she's right next door if Zoila needs another. At the end of the night, Zoila assures Kyle that she's okay with he and his mother being close, and the two of them share a kiss. However, while Frances likes Zoila very much, it appears she doesn't like her being with her son. ("Another One Wipes the Dust")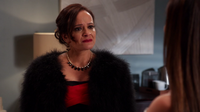 The "new" Zoila can behave as though she didn't just lose a baby. ("War and Grease")
Kyle is out of town on family business, meaning he's absent when Zoila goes to visit him and instead she goes out to lunch with Frances, proceeding to enjoy the many perks that stem from being a part of her rich inner-circle. She brags about these perks to Carmen, though she then learns from Frances that her friends think she's rude because she's accepted several invitations to social events without extending any of her own. As such, Frances rectified the situation by telling everyone that Zoila is throwing a cocktail party on Friday; Zoila panics, not believing she has enough time to throw a party together before then, but Frances points out that her maid can just do all the work. Zoila proceeds to work hard to get everything ready and calls Carmen, offering to pay her to pretend to be her maid, and Carmen requests that her cousin's daughter Daniela be able to help, which Zoila is fine with. At the party, Zoila pretends she has a chateaux in Switzerland to impress the rich ladies while Carmen pretends to be her doting maid; Daniela, however, is late, and when she finally does turn up she is very drunk, meaning she spills all over Frances' expensive shirt. When she and Carmen refuse to apologize, Zoila is forced to fire them in front of everyone, with Frances expressing her sympathies about how hard it is to find good help. Zoila later goes to Carmen to apologize, and Carmen expresses her distaste for how Zoila's been acting. Zoila argues that the new her is allowed to pretend and be happy, meaning she doesn't always have to feel like she's just lost a baby, but Carmen argues in turn that the old her was her friend. ("War and Grease")
Zoila sees that Kyle has returned home from his trip and goes to see him, only for him to be under the impression that their romance fizzled out because they didn't talk for the entire time they were away; he then presents her with a scented candle - a parting gift to commemorate their brief time together - and Zoila, taken aback, tells her now ex-boyfriend that he just made it very easy for her to get over him. She proceeds to have lunch with Frances who points out that there are plenty of other eligible fish in the sea, then trying to set Zoila up with the recently separated Adrian Powell. Fearing that Adrian may recognize her, Zoila tries getting away but just ends up causing a scene, and then, when Adrian helps her to her feet following her falling over, he doesn't recognize her anyway. She informs Carmen and Rosie (who Carmen told about Zoila's new lifestyle) and accuses Adrian of being a racist little troll, for he met her at Genevieve's dozens of time but never took any notice because, back then, she was just "the help". Another dinner with Frances leads to an awkward date with Mr. Powell when Frances invites him to join them and then pretends to be sick so that she can leave, and Zoila confronts Adrian about his racism when he mixes up the waiters Carlos and Santiago. Adrian insists that he's classist as opposed to racist but Zoila sees this as just as reprehensible. However, despite her attitude, she herself ends up mistaking the two waiters, showing just how much of an effect her new lifestyle has had on her. Adrian proceeds to drive her home and walk her to her door, expressing an interest in seeing her again, but Zoila makes clear that the interest isn't mutual; however, he loves a challenge and plants a kiss on her anyway, to her shock. Frances watches from the window of her house and says how she knew those two would hit it off; Kyle watches too, seeming quite disheartened about the whole thing. ("Sweeping with the Enemy")
Kyle approaches Zoila and makes up some flimsy excuse for dropping by so that he can ask her about any visitors she's had lately, having seen her with Mr. Powell. Zoila realizes this and reports it back to the girls, eventually admitting her secret double life to Marisol when a misunderstanding occurs. Zoila of course has no interest in seeing Adrian again, but later he approaches her in order to invite her to the Hamilton House Gala and she ends up saying yes while distracted with making sure the both of them are in the view of Kyle, so as to make him jealous. Evelyn later sees her husband at the gala while she is working and is shocked, not yet seeing who his date is. Unfortunately for him, he later introduces Zoila to his wife in an attempt to make her jealous, only for Evelyn to burst out laughing because he's on a date with Genevieve's maid. Adrian proceeds to drive Zoila home where she explains her situation to him, and he gallantly agrees to keep her secret out of sympathy and even goes on to hug her in a continual effort to antagonize Kyle's jealousy. Later, Kyle goes to Zoila and apologizes for breaking up with her, proceeding to start to make things right with a passionate kiss. There is one condition to the restarting of their relationship though: they cannot tell his mother. ("A Time to Spill")
Zoila and Kyle make love at his place for a change, though she is confused as to why they're still keeping things a secret from Frances. The need to keep this secret goes to ridiculous lengths when Frances returns home early from her trip, wanting to talk to her son about Ben, and Zoila is forced to climb out the window and onto the ledge, which she ends up falling from. She tells the girls, and Rosie suggests that she could make Frances find out by accident, which Zoila doesn't think is the worst idea. She later invites Adrian over, saying that the two of them are now friends, and requests that he make lunch plans with Frances only to then swiftly cancel so that she can catch Kyle and her in the act. Adrian loves the idea and agrees to help, though he is confused as to why Kyle would fear Frances. Later, Adrian carries out the plan and cancels on Frances at the last minute, meaning she returns home to discover Zoila in bed with her son. Zoila is certain that Frances won't really care that she and Kyle are seeing one another again, but suddenly the old woman turns cold and makes clear that Zoila is no longer welcome in her house. Kyle tries defending his mother to Zoila but she tells him that if he cannot stand up to her then the two of them are over, to Kyle's fear. As such, he proceeds to tell his mother to "go to hell" when she argues that Zoila is changing his personality and luring him away from she and The Circle; Zoila is happy to hear that Kyle "broke up" with his mother, though less happy to hear that he wants to move in with her because he has nowhere else to go. ("The Maid Who Knew Too Much")
Rosie mentions having Genevieve join a cult in order to investigate it for her and tells her employer when Zoila expresses concern, making Genevieve think that, were she in real danger, Zoila would rush in to save her. Meanwhile, Zoila is living with Kyle, who she begins to realize can do nothing for himself, like make the bed, since it seems his mother did everything for him up until now. Adrian later meets with Zoila though decides to leave so that she can talk to Genevieve, who keeps trying to call her; first, however, he arranges to have drinks with her later that evening. When Zoila finally answers her phone, she is shocked to hear that Genevieve is getting married, rushing over to the Delatour mansion where she learns that her former friend plans on marrying Fabian, a gay man from the cult she's in. Zoila doesn't believe that Genevieve could be so stupid as to actually go through with it, and then realizes that this is all a trick to get her to return. She vows never to forgive Genevieve for what she did and, when she returns home to Kyle, she is annoyed by all the mess he's producing. She goes on to meet Adrian for drinks and, when he asks what happened between she and Genevieve, she explains that she lost a baby and blames her former employer for making the wrong choice. Adrian understands completely, having blamed Evelyn for the death of Barrett, but ultimately convinces his friend that it's better to let go and forgive than to hold on to your anger and simply be miserable. As such, Zoila returns to Genevieve and tells her that she's decided to forgive her, and Genevieve is utterly overjoyed to be reunited with her best friend. Zoila later returns to Kyle and is happy to see that he's cleaned the house, even going as far as to make the bed; however, when the two of them start to have sex on it, she suddenly pictures Adrian in his place and has to stop, worried about what this might mean. ("Blood, Sweat and Smears")
Zoila wants to break up with Kyle, having briefly discussed her sexual fantasy about Adrian to Rosie at the same time that Rosie warned her that Kyle and Frances are involved in a cult; however, when Zoila tells Kyle that the romance in their relationship has faded, he takes this as a sign that he needs to step up his game, and not that she wants to end things with him. While going to meet with Genevieve, Zoila bumps into Adrian and refuses his offer to meet up later, still finding it very awkward. She tells Genevieve about her situation with Kyle and, to avoid breaking his heart, Genevieve suggests that Zoila get him back together with his mother so as to soften the blow. As such, Zoila goes to see Frances and tells her she'd like to break up with Kyle, which Frances is enthusiastic about, but Kyle won't return to her unless she blesses his relationship with Zoila, for he is still mad about that. To create an excuse for Kyle to talk to his mother, Zoila instigates a "crisis" by setting the curtains ablaze with one of Frances' many candles; they make up a story for Kyle about how Zoila saved Frances' life, and Frances blesses the relationship, with Zoila suggesting that Kyle move back in with his mother so as to preserve the romance they've been lacking. All seems to be going according to plan, until the firefighter wants to take a look at the attic and Kyle and Frances act all shady about it, not allowing him to do so. Rosie later tells Zoila about how she needs to find Peri's confessional video to learn Tucker's real father's identity, which Zoila believes might be in Frances' attic, since she and Kyle are so secretive about it. She agrees to snoop around, right before she's startled by the unexpected arrival of her employer, Fiona Gladhart. ("I Saw the Shine")
Fiona is back and Zoila has to work when Kyle visits, and she pretends that the woman who is in fact her boss is actually her ill house guest, then wanting him to leave so that he doesn't catch said illness. Fiona, who's worried that her clothes appear to have been stretched out by a "great big fat person", proceeds to lay down a set of rules for her maid, which include her having no personal visitors and having to wear a uniform. Zoila still intends on snooping around Frances' attic, on Rosie's behalf, so that she can find the video of Peri confessing who raped her; however, when Kyle and Frances go out to dinner later, Zoila is delayed in sneaking over because she first has to whip up a frittata for her jet-lagged employer. She calls Rosie to explain the delay, then managing to search the attic and discover a locked cabinet. She suspects that the videos are in there but has no time to investigate further because Kyle and Frances arrive home abruptly. Frances is already mad about the fact that Zoila has yet to dump Kyle, and is madder still when she discovers Zoila in her house, in a maid's uniform, pretending to be roleplaying for Kyle. Zoila promptly leaves but, later, Frances comes to her house to berate her for not breaking up with Kyle yet. To cover her uniform, Zoila throws on Fiona's robe, which Fiona catches her wearing while she's still talking to Frances. She forces Zoila to remove it in front of her friend and Frances comes to the realization that Zoila has been lying to she and her son this entire time. Kyle confronts her over this after being told the truth by his mother and Zoila confronts him in turn regarding The Circle. She explains that Spence is innocent and that they need Peri's video but he refuses to betray his mother for her, to her dismay. He and Frances proceed to leave in the middle of the night, to Zoila's shock, and they take everything with them. Zoila informs Rosie of this, whose chances of freeing Spence may have just been wrecked. ("Much Ado About Buffing")
The maids discuss who Peri's killer could be, and think it might be Hugh Metzger. Later, when Fiona mentions having seen the handsome neighbor next door, Zoila rushes over because she thinks Kyle will be there. Meanwhile, she has a piece of mail, and Fiona throws it into the trash. Zoila is soon taken aback to discover that the man next door isn't Kyle, but Spence, who's escaped prison and is now hiding out with Kill Face. Zoila offers to bring he and his fugitive friend some food to sate them in their hideout; as she goes home to collect said food, she discovers her mail in the trash - an envelope from Kyle, containing the USB with the video of Peri confessing all her secrets. Knowing this to be crucial in finding out the real killer, Zoila rushes it over to Marisol's house, where Rosie learns from the video that the real killer is Gail Fleming. Gail is then taken down, while Zoila returns home and panics when she sees Fiona watching a news report about Spence having escaped, and she comes to realize that he's the man she saw skulking around next door earlier. Zoila, deciding she'd rather be fired, snatches Fiona's phone before she can call the police and rushes over to warn Spence that his cover's been blown. The cops soon arrive and Kill Face thinks Zoila is to blame, wanting to shoot her; Spence tries to stop his friend from doing this, and a struggle ensues, and Spence ends up shot. However, his name has been cleared and he's free to go. Zoila then returns to work for Genevieve with the new rule that they can't get too wrapped up in each other's lives, meaning Zoila can't comment when Genevieve starts dating a woman named Lori. A year goes by and Zoila attends the wedding of Peter and Marisol, only for the ceremony to be halted due to the sudden disappearance of the bride. The maids suspect foul play. ("Grime and Punishment")
Later Life
Marisol then proceeds to wake up, having dreamed the entire wedding and kidnapping, and goes on to marry Peter for real.[1] As for what's going on with Zoila in reality, she enters into a secret affair with Adrian, but it's further complicated by the return of Javier.[2] In the end, Adrian also reunites with Evelyn.[3] Genevieve and Lori have also got married, relieving Zoila of having to handle her employer. However, when Zoila discovers Genevieve is over being with women and is having an affair with a man, she tries to make Genevieve stop in order to save their marriage. Ultimately though, Lori is the one to leave Genevieve, leaving her with just Zoila yet again.[4] Eventually, Valentina and Remi give Zoila and Genevieve a grandchild.
Trivia
In an early script for the series' premiere, Zoila and Valentina's surname was "Del Barrio".[5]

This is later referenced in "The Turning Point" when Zoila questions if Evelyn knows her surname. After a moment of hesitation, Evelyn guesses "Del Barrio", thus proving Zoila's point that the two are not friends.

Creator Marc Cherry pitched the idea of Zoila's fourth season storyline, which the writers all favored enough to discard their original plans.[6]
Zoila has formally met with every main character except Taylor, Peri, Sam, Nicholas, Opal, Tony, and Jesse.
Gallery
This is a gallery of photographic stills released to promote the character.
References