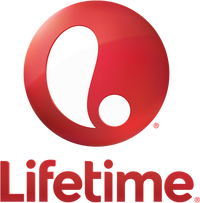 Lifetime logo.
Lifetime is an American cable and satellite television channel that is part of A+E Networks, which is jointly owned by the Hearst Corporation and The Walt Disney Company. The channel features programming that is geared toward women or features women in lead roles.
After ABC passed up Devious Maids for a 2012-13 series, Lifetime picked up the show for a 13 episode first season.
History
Launched on February 1, 1984, Lifetime Television Network was created by the merger of Daytime and Cable Health Network (CHN). Daytime, operated by Hearst/ABC Video Services, began in March 1982, as a four-hour per day weekday service featuring alternative programming for women. CHN, operated by Viacom, debuted in June 1982, as a 24-hour service offering programs on personal and family health, fitness, science and medicine.
Thomas F. Burchill was the President and Chief Executive Officer from 1984 until February 1993, when he was succeeded by Douglas W. McCormick. Carole Black led Lifetime as President and CEO from 1999 until 2005, when she was succeeded by Betty Cohen. Andrea Wong was named President and CEO in April 2007.
In April 1994, Viacom sold its share of Lifetime to Hearst Corporation and Cap Cities/ABC, now The Walt Disney Company, its other partners in the joint venture that owned the Network.
In August 2009, Lifetime Entertainment Services, LLC was acquired by A&E Television Networks, LLC. A&E Television Networks is a joint venture of the Disney-ABC Television Group, Hearst Corporation and NBC Universal.
Devious Maids
The show was originally developed this spring for ABC, but the network ultimately passed on turning the pilot into a series. However, on June 22, 2012, Lifetime picked up the pilot with a thirteen-episode order.
"We are thrilled to be getting into business with one of entertainment's true visionaries," Lifetime chiefs Robert Sharenow and Nancy Dubuc said in a joint statement. "This show and Marc Cherry's unique storytelling voice perfectly articulate Lifetime's strategy of attracting top-tier creatives with their most original and exciting projects."
Added Barry Jossen, executive Vice President creative and production at ABC Studios, "Marc Cherry is a visionary, and we are honored to share his newest inspiration, Devious Maids, with Lifetime."